After having worked for more than 3 years in the enterprise financial software field I decided to follow my passion of Game Development. My experience working with teams to deliver products on a schedule is an asset when it comes to picking up new skills and applying them effectively to create high quality games.

My philosophy when it comes to engineering and work in general is driven by overcoming the challenges involved in game development through team work and collaboration. I strive to create a productive work environment to ensure that the team's vision of the game is not only delivered in a timely manner, but also surpasses their expectations.​

Powered by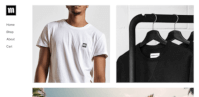 Create your own unique website with customizable templates.